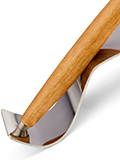 Ethergraf tip that writes with no ink and no refill, forever!


P

IUMA
Piuma is born from a reflection on the Leonardo da Vinci's treatise about birds' flight, left unfinished in the early years of XVI century.
Piuma is a writing instrument entirely made with evaporated pear wood, with a dynamic shape that reminds the goose feather's shape and the studies on flight.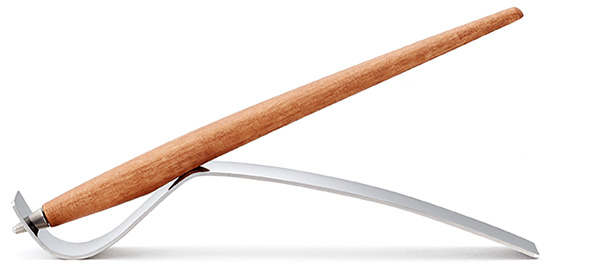 The ETHERGRAF® tip microscopically "scratches" paper, oxidizing it
and leaving a light but indelible stretch.
The common paper - that is the cellulose not trated paper
(formed by vegetable fibers bonded through a process that
is called "felting") - due to its porosity, is in fact a material
which perfectly reacts to the passage of the metal tip.
The tip is Etergraf®: its seems a ballpen, but it isn't. It's not even a pencil, nor a fountain pen. It writes forever, without any ink or refil or lead, with a neat and light line; re-inventing the sixteenth-century oxidation technique used by Leonardo da Vinci in his drawings.
Piuma rests in perfect equilibrium on a mirrorred steel pedestal that supports it and let us read the Leonardo's signature, engraved on the back side of the pen, in a mirrored way.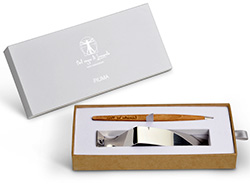 The Piuma pen comes in a nice, simple but elegant box in white cardboard that includes the pen and its pedestal.
The Piuma pen is produced for a limited period of time, 2019 only, being the 500th anniversary of the death of Leonardo da Vinci.
---
Piuma - Leonardo Set
The Leonardo Set was made to celebrate the 500th anniversary of Leonardo da Vinci's death. It includes a Piuma pen without its pedestal, a booklet about Leonardo da Vinci, and a stone-paper note.
Dimensions: cm. 22,5 x 20