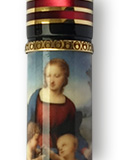 A Limited Edition dedicated to Raphael for the 500 years from his death.


R

AFFAELLO SANZIO



Limited Edition
500 fountain pens
150 rollerballs
each model
On the occasion of the 500th anniversary of the death of Raffaello Sanzio (Urbino 1483, Rome 1520), Marlen announces a limited edition pen dedicated to him.
Raphael, one of the most important artists of Italian Renaissance, was known for his good character, pleasant looking, excellent painter; in little more than twenty-five years of professional activity he painted very famous Madonnas with Child, portraits of Popes, Cardinals and Lords, and frescoes known and admired all over the world.
Marlen reproduces two of his most famous paintings: the Self-portrait and the Madonna del Cardellino (Lady of the Goldfinch), both painted between 1504 and 1506 and exhibited at the Uffizi Gallery in Florence.


The central part of the pen's barrel is made of ceramic, on which the thumbnail of the painting has been photo-engraved with a particular process. Two bronze rings decorated with ovoids of Renaissance inspiration close it at the ends. Cap and ends are in shiny black resin for the Madonna model, and deep brown for the Self-portrait model.
The cap is decorated with 3 rings in mother-of-pearl resin (red for the Madonna, to resume the colour of the garment; brown for the Self-portrait, like the background tones) alternating with bronze rings.

The collection includes fountain pens and capped rollerballs.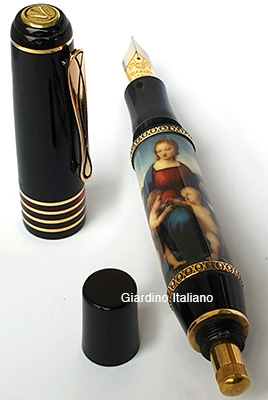 The fountain pen is piston filled.
Two versions for bicolor nib: steel, or 18Kt gold.
Both give choice among F, M, B.