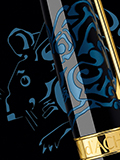 2020 is the year of the Rat, according with Chinese Zodiac. Blue and black lacquer.


Y

EAR OF THE

R

AT



Limited Edition
888 fountain pens
888 rollersccording to Legend, the Emperor of Jade summoned all the animals in creation to a mysterious meeting, promising them a special reward; but only 12 animals came.
The Emperor then gave their name to all years from then on, in the order of their arrival.
2020 is the year of the Rat, that on Chinese Zodiac symbolizes good fortune, ingenuity and desire for challenges; it's considered a loyal friend with great abilities of organization and tactics that bring it to success.
Continuing the collection inspired to the Chinese Zodiac, Caran d'Ache, Maison de Haute Ecriture, has created a new, prestigious writing instrument in only 888 pieces, because 8 is considered a lucky number in China, ensuring prosperity and balance in life.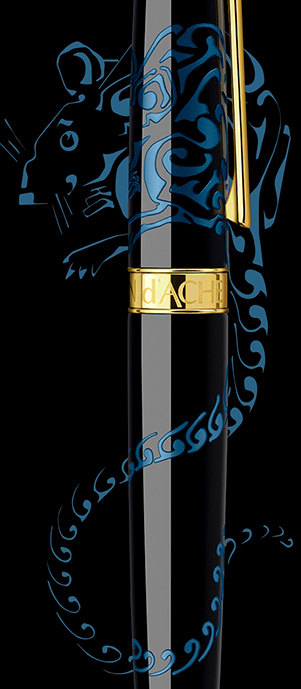 Cap and body are covered in genuine chinese lacquer, hand applied in several successive layers, due to the purest tradition known since 1400 BC (Shang Dinasty).


The top coat is gently polished, giving the pen the brilliant deep reflections of a jewel.
At the end, with exquisite finesse and precision, the rat is engraved by hand, while retaining the integrity of the lacquered surface, and colored with blue Chinese lacquer; an elegant contrast with the deep black.
The design represents a rat, vigilant in the darkness, with its long tail that wraps around the barrel of the pen, hinted at by circular designs inspired by the rings of scales that cover the tails of rats.
The same design is also reproduced on the grip section of the pen, gold plated like all the trims.
18 Kt gold nib, engraved with Caran d'Ache logo and classic decoration, only available in M.
The Chinese lacquer is a living and fascinating material, used since the Shan Dinasty inl XIV Century BC. Its technique calls for a high degree of skills and patience, a tipically Oriental virtue. Entirely executed by hand, the meticulous successive applications of fine layers of lacquer require infinite patience.
Each pen is authenticated
with the calligraphic symbol
of the Rat,
and the Chinese stamp
of the Maison Caran d'Ache,
applied in red
as a token of good luck.



The Year of the Rat is a piece of the Artist Collection series: limited editions, created in close collaboration with artists and craftsmen in several fields, from jewelry to sculpture.
They're magnificent pieces, rich for precious materials, that perfectly illustrate the expertise of a Maison di Haute Ecriture.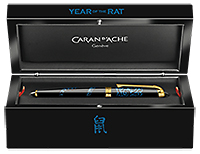 Each pen comes in a luxury black lacquered box, with authencity certificate for the Chinese lacquer and Caran d'Ache's international lifetime warranty.
The pen is made on request: therefore it's available in approx 15 days from order.