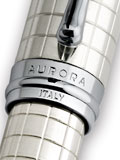 Sterling silver, Guillochè engraved with classy square pattern

IPSILON
Q

UADRA
A precious variation od classic Ipsilon collection; it's made in sterling silver, with Guilloché engraving of parallel squares.



Clip and rings are made in chromed metal.
Cartridge/converter filling system, 14 Kt white gold nib.
Our order form calculates the shipping costs, which depend on weight, destination and carrier or mail.