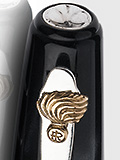 Black and red resin, like the colors of Carabinieri's uniform, with silver and bronze


C

ARABINIERI
Marlen wanted to dedicate this special edition to a historic and veteran Italian institution - Carabinieri.
Special Edition that evokes the colors of uniforms and reproduces the symbol of Carabinieri - the flame - in two versions, silver and broze, to distinguish the roles and the ranks of the institution.
Black shaded resin for cap and body, and red resin rings like the side bands of the uniforms; the large silver central ring is engraved with the coat of arms of carabinieri and the Marlen logo.
The Carabiniericollection is produces in two models: Classic and Elegance.
Classic - large size, large gold or steel nib




The fountain pen of the Classic model is made in two versions:
- with 18 kt gold nib , bicolor, and bronze flame on the clip;
- with steel nib and silver flame on the clip.
For both, the filling system is cartridge/converter.
Elegance - slender size, steel nib only



The Elegance model features the silver large central ring put on the barrel, instead of on the cap like it is in the Classic model.
Steel nib, F, M, B, and cartridge/converter filling system.
Our order form will calculate the shipping costs, which depend on weight, destination and carrier or mail.