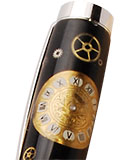 Let's give new life to old watches


T

IME
The Time pen is handmade by Storia artisans with genuine parts of old watches. Not printed, bur real pieces.
Cap and body are made with black brass, over which inner and outer parts of old watches have been applied with casual elegance: hands, crowns, bezesl, wheels, even dials.
It's a watch's heart, disassembled and carefully placed to decore a different kind of personal object.

At the end, the work has been covered by transparent and glossy resin to give three-dimensional and shiny effect.
All pens are different each other, due to the different parts used, and their different position.
These photos are just an example od how your pen could look like.


Storia makes the Time pen even with your own watch parts: for example, disassembling an old watch, ruined or no more working, which you feel linked to, by emotional bond:


Steel bicolor nib, iridium point.
Cartidge/converter filling system, rhodium trims. Converter included.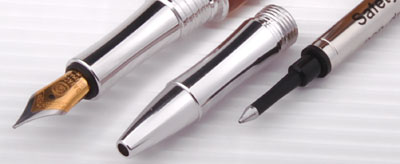 You can buy an extra roller grip separately.
Exhanging is very easy: just unscrew the fountain pen's grip and substitute with the roller's one, for experiencing all the writing styles.
Two pens in one!
The packaging is a raw wood box, inspired by a typical crate of apples of the region.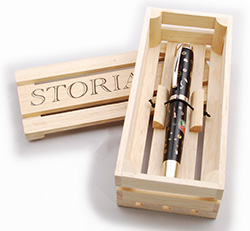 Available on order, in about 10 days