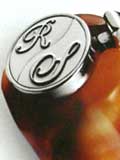 MyPenSystem:
quick personalization of all pens that have Visconti magnetic top


M

Y

P

EN

S

YSTEM
Personalization with initials
All the pens of the Opera, Van Gogh, Rembrandt, Homo Sapiens, Manhattan series (not limited edition, usually), can be personalized in reversible way, with initials on the cap top, using the magnetic initials of Visconti's My Pen System.
Please specify if you want silver or golden initials.

Personalization with cabochon gems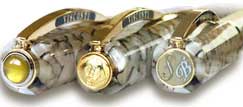 Visconti's My Pen System now offers also magnetic cabochon gems.
The available gems are: black onix, black hematite, blue lapis, violet amethyst, red cornelian, amber, brown tiger's eye, yellow agate, green peridot, deep green malachite, cyan turquoise, white pearl.
You could buy one gem only, or a group of 6 in different colours.



All pens of the Opera Collections can be personalized with My Pen System.
Personalization is reversible because we'll send you also the original Visconti top disc for future substitution.