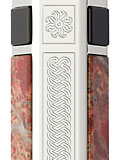 The Agate Rooms of Catherine's Palace recalled in the Pen of the Year 2014


P

EN OF THE

Y

EAR

2014



Limited Edition
1000 fountain pens
300 rollerballs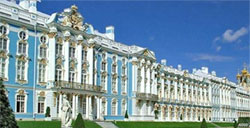 The Catherine Palace, summer residence of Russian Tsars, was built near St. Petersburg at the beginning of XVIII century by Caterina I; then it was re-built and enriched by her daughter, Elisabeth, in Rococo style, and finally refurbished and finished by Catherine II.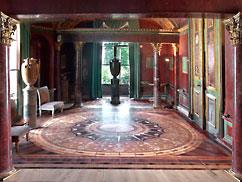 It was wellknown for its greatly luxury facades: more than 100 Kg of gold were used to gild the sophisticated stucco and statues on its roof.
Catherine II wanted to construct the personal apartments of the Empress, with the famous Agate Rooms, featuring elaborate decorations in polished jasper (from the Urals), that covered all the walls.
The magnificent rooms won the favour of the Empress; henceforth she began writing all of her personal correspondence here.

The Pen of the Year 2014
Platinun plated cap and body, with the unmistakable shape of Graf von Faber-Castel pens, with their massive and springy clip.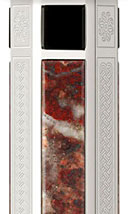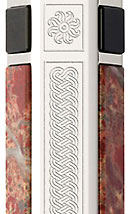 The fountain pen is piston filled, and its bicolor nib is made in 18 Kt gold.
An end-cap protects the rotary knob of the plunger mechanism, to prevent unwanted movements.
Three large, red-brown jasper stones are embedded into the platinum-plated barrel of the pen, and envision the aura of these magnificent rooms perfectly.
The barrel is also engraved with a chain/braid pattern that echoes a formative style element of the Agate Rooms.
The cap top of the fountain pen is adorned with a grey, shimmering, Russian quartz with a facet finish.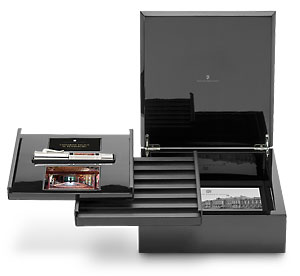 This pen is produced by the same skilled masters that restored the Catherine Palace.
Each pen is individually numbered and comes in a highly polished, deep-black wooden case.
It includes a certificate personally signed by the Director of the Amber Workshop, Boris Igdalov, attesting to the authenticity of the Russian gemstones.
The wooden case can also be used as a collector's case because a second insert has room for an additional six writing instruments.