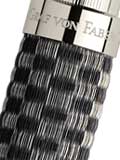 Fountain pen made in platinum and hand-woven horsehair.


P
EN OF THE
Y
EAR

2009

Few creatures have inspired people's imagination as much as the horse. Since Stone Age cave paintings, through Roman gods to Renaissance and Baroque artistic sculptures and paintings.
Horsehair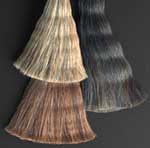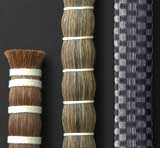 Towards the end of the 18 th century, horsehair began to enjoy a high status as an elegant material for chair coverings.
At first it was woven exclusively by hand, but in 1872 the first mechanical loom for the coveted material was constructed.
Its natural properties and the difficulty of processing mean that horsehair is still used for extravagant furnishings and luxurious fashion accessories.

A near-forgotten art
Producing horsehair fabric of top individual quality is an art that only a few weavers have learned to master. There is but a single such expert in Germany: Dorit Berger.
On request,
a pen can be
specially made
from the tail hairs
of your own horse. Horsehair presents a special challenge. The tail hairs of a horse are relatively stiff and short, and so cannot be spun to a continuous thread. They certainly cannot be woven in the conventional way.

Roughly 70 hairs are woven individually for each centimetre of fabric. That is extremely time-consuming. Hair by hair, a weave comes about with changing texture, light and dark, that contrasts so excitingly with the cool platinum-plated metal parts of the pen – so that each one brings out the finest nuances in its own way.




Every horsehair fountain pen is an absolutely unique work of art!

Personal and exclusive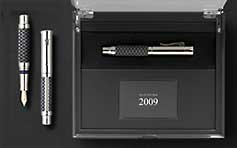 The Pen of the Year 2009 represents an exclusive and individual sense of writing.
The 18-carat bicoloured gold nib is available in the widths M, B and F.
The platinum-plated end cap protects the knob for the plunger mechanism, on which each pen is individually numbered.
An accompanying certificate bears Dorit Berger's signature, attesting to the limited edition and certifying the quality and genuineness of the horsehair used.
Description
Color
Version
Price €
Our order form calculates the shipping costs, which depend on weight, destination and carrier or mail.