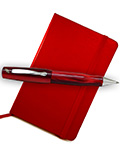 Colored handy quality pen, at affordable price





V

EDO
Stipula Vedo series is a bright and vivid coloured pen, hand turned from solid bar.
Handy, light, carefully finished and at an affordable price, ideal to accompany us every day.
The fountain pen was produced in two models: piston filled, or cartridge/converter filled, but all colors are sold out.


The collection includes also the capped roller, and the twist ballpens.
The rollerballs are still available in plain black and pearly blue.


The ballpens are available in plain black, pearly red, clear (transparent) demo and blue demo.





Special offer and packaging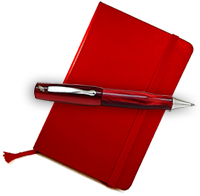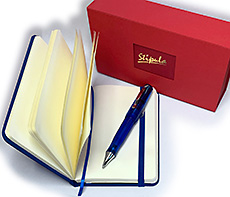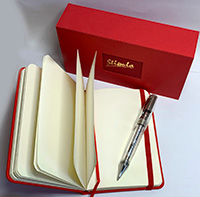 Rollerballs and ballpens
All the Vedo capped rollers and the twist ballpens come in a Stipula red box with a small Moleskin-type notepad, (valued 12€), size cm. 9,4 x 13.
The notepads are not sold separately.

Description
Color
Version
Price €
Vedo - piston filled fountain pen with ink - Special Offer
Sold out
Vedo - converter fountain pen with ink bottle - Special Offer
red
Sold out
Vedo - roller with notepad - Special Offer
roller
Sold out
Vedo - ballpen with notes - Special Offer
ball pen
111
€ 39.00
Our order form will calculate the shipping costs, which depend on weight, destination and carrier or mail.