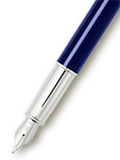 Sheaffer 100, simple and affordable





100 S

ERIES
Cigar shaped, regular size, well balanced, and affordable price.
Made with blue lacquer and chromed metal.

The clip, rounded triangular shaped, features a thin slot and the iconic white dot - the Sheaffer's symbol.
Cartridge/converter filled, high quality steel nib (only M available)

Description
Color
Version
Price €
Our order form will calculate the shipping costs, which depend on weight, destination and carrier or mail.