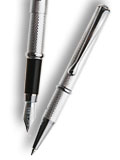 Small size pens, fully engraved with Guillochè technique


S

ILVER

M

EMO
The Silver Memo pens, by Renzetti, are rhodium plated and fully decorated by a careful Guillochè engraving over cap and body.
The rhodium brightness and the preciousness of hadcraftmanship make it a classy object yet practical, because rhodium is a very hard and doesn't oxidize.
Small size, ideal for a pocket or bag or diary use.
Rhodium is a noble metal,
much rarer and more precious than silver.
It's also much harder, it doesn't oxidize,
it doesn't change over time, and it's more brightly white.
It's specially used by jewellers for white gold alloy.
Length of the ballpen: cm. 8,8
Length of the fountain pen and roller, closed: cm. 10
Fountain pen, open with the cap posted back: cm. 11,7

Description
Color
Version
Price €
Our order form will calculate the shipping costs, which depend on weight, destination and carrier or mail.