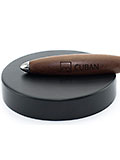 The cuban cigar that writes instead of burn!


C

UBAN
Dimensions:
Length: cm. 10
Diameter: cm. 2
Weight: gr. 31
This is Cuban : its innovative and ergonomic shape will surprise you from the very first use.
Dynamism and flexibility are the concepts that inspired the creation of this instrument, which, thanks to the Ethergraf tip, requires no ink or refills .
Cuban was designed by Sergio Mori and handmade in Italy with fine wood recovery, in 4 colors:
The ETHERGRAF® tip
microscopically "scratches" paper
oxidizing it and leaving a light
but indelible stretch.
Due to its porosity,
the common paper - that is the
cellulose not trated paper
(formed by vegetable fibers
bonded through a process
that is called "felting")- is in fact
a material which perfectly reacts
to the passage of the metal tip.

Tobacco



Titanium



Colored plywood



Cedar


The original package recalls the metal case of Cuban cigars.

Otherwise, you may prefer to purchase it with its desk base, very evocative...
The desk holder is made with matt black painted wood, with stand dip.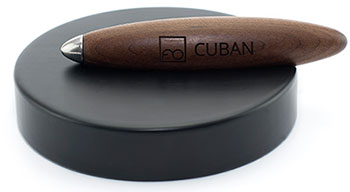 Description
Color
Version
Price €
Cuban - wood pen with metal case
€ 32.00
Cuban - wood pen with desk base
Sold out
Our order form will calculate the shipping costs, which depend on weight, destination and carrier or mail.