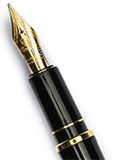 The new Avatar in De Luxe version, with 14kt gold nib


A

VATAR UR

D

E

L

UXE
The word Avatar, in Sanskrit,
means "appearance, descent".
In the virtual word, an Avatar is the alter ego
that represents the real person.
Pineider choosed this name hoping that
the Avatar pen could become the alter ego
and the lifetime companion
for the customers who will buy them.
Here is another, more precious Avatar model: Avatar UR De Luxe.
Also made with the new "ultraresin" material invented by Pineider in 2019, which solved the problem of accidental breakage, also resembling celluloid. Rigid, resistant to impact, oils, ink, high and low temperatures, ultraviolet rays and perfect for atmospheric agents.
Here are the colours: full black, grey (Riace Bronze), devil red, angel skin pink, forest green, turquoise (abalone green).






The central band and other trims are gold plated 23 Kt.
Magnetic closure.
Filling system: cartridge/converter .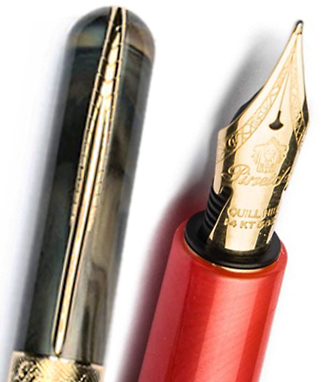 Iperflex nib, 14 kt gold, is shaped at sides for a better flexibility and memory.
Available as EF, F, or M.
It doesn't need any pressure to write, because your pen must be an extension of your hand.
The clip is a stylized quill, ethernal symbol of writing; it features a sophisticated compensation mechanism and a wide spring range with allows use with any kind of material and thickness.
The Avatar UltraResin was built following the GlueLess technology rules: it was assembled without using a single drop of glue, thanks to the 3D engineering and high precision manufacturing.
Really a technological puzzle, where all components precisely fit each other by simple framed parts.