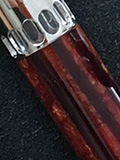 The wellknown Arco celluloid has been reproduced in resin for the Pineider Arco


A

RCO



Limited Edition
888 pieces
The Arco pen - of La Grande Bellezza series - is a limited edition inspired by the celluloid iridescence, yet being not celluloid.
In fact, the Arco material is made by resin, placed as overlapping layers, alternating dark brown and light brown colors, joined by gold-colored glues.
The slabs of the material are then turned with a specific eccentricity (4 degrees) bringing out the overlapping layers, bringing to light the natural iridescence and transparency.




The Arco features a piston filling system and a delicate, cut-out window for inspecting ink in the pen's metal grip.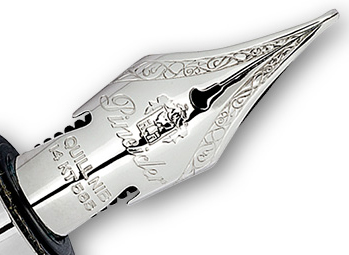 The Hyperflex nib, in 14 Kt white gold, stands out for its extraordinary ductility and excellent "memory" effect.
It's suitable for everyday use, shaped at sides for a better flexibility.
It's not a calligraphic nib, though, which had different characteristics; it just makes the pleasure of writing its strong point, because it allows a fluid stroke, which does not require any pressure, as the fountain pen was the extension of the hand.
The Arco pen, like other Grande Bellezzas, features a special magnetic lock that holds the cap when the pen is closed and also when it's posted on the back; and a quill clip, in marine steel.
Palladium plated trims.
Description
Color
Version
Price €
Arco - resin fountain pen
Sold out
Arco - resin roller
roller
Sold out
Arco - resin ballpen
ball pen
Sold out
Our order form will calculate the shipping costs, which depend on weight, destination and carrier or mail.