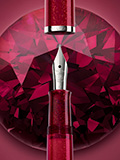 Classic 205 - special edition - in the same color as the ink of the year, Star Ruby


205 S

TAR

R

UBY
Star Rubwas elected the ink colour of the year 2019 by Pelikan fans. The ink is a shiny shade of burgundy tending to pink, a rich and bright color that takes on different shades depending on the angle of view, creating fascinating and unique effects.
The Classic 205 Star Ruby pen, in the same shade, is incredibly brilliant, and enriched by an extraordinary crystal effect that makes it sparkle when exposed to light, with different intensities depending on the viewing angle. Each instrument is different from the others, able to show unique reflections.
Its finishes are made of shiny silver metal, like the clip, with the unmistakable shape of a pelican.
Steel nib available as F, M, B. The EF nib isalso available with a small surcharge.
Piston filling system. As all the Classics, it features the differentiated piston filling mechanism. Introduced by Pelikan in 1929, it causes the spindle inside the fountain pen to turn quicker than the end piece of the barrel, with the help of two different threads.
The 205 Star Ruby is a Special Edition: it means it's not limited or numbered, but produced for a limited period of time, therefore destined to finish quickly.
The fountain pen is sold in a special package with the Edelstein Star Ruby ink bottle.
Description
Color
Version
Price €
205 Star Ruby - fountain pen in special package - Special Offer
Fine
Sold out
205 Star Ruby - ballpen
ball pen
Sold out
Our order form will calculate the shipping costs, which depend on weight, destination and carrier or mail.