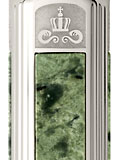 The Sanssouci Palace of King Friedrick II di Prussia in the Pen of the Year 2015


P

EN OF THE

Y

EAR

2015



Edizione Limitata
1000 stilografiche
300 roller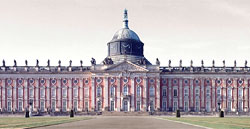 The Sanssouci Palace is one of the most famous castles in Potsdam, capital city of Brandeburg region. It was built in 1745 as a summer palace by Frederick II the Great, King of Prussia, in Rococo style. It's placed in a large park, where the King wanted to stay "without concerns", and to follow his personal and artistic interests. After him, the palace was enlarged by Frederick William IV.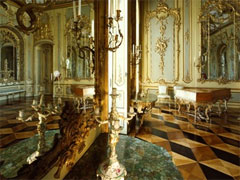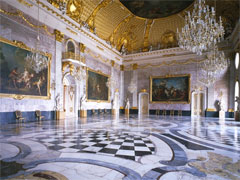 Magnificent ballrooms, impressive galleries, decorated with precious natural stones that Prussia had in abundance thanks to the conquest of Silesia: wall coverings made from multi-coloured marble, floors inlaid with jasper, amethyst and serpentine. The interiors of the New Palace are unparalleled in Europe!

The Pen of the Year 2015
Cap and body in platinum plated metal, with the unmistakable shape of Graf von Faber-Castell pens, with their massive and springy clip.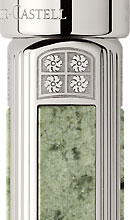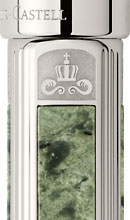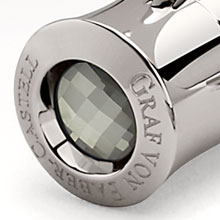 The fountain pen is piston filled, and its bicolor nib is made in 18 Kt gold.
An end-cap protects the rotary knob of the plunger mechanism, to prevent unwanted movements.
The cap top of the fountain pen is adorned with a smoky Russian quartz, with a faceted finish..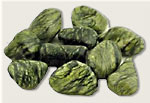 Four large, green Silesian serpentines are embedded into the platinum-plated barrel of the pen, ground and polished by hand. Frederick II himself travelled to Silesia to choose the most beautiful gems, being a great connoisseur.
The Herbert Stephan gemstone manufactory carries on the great tradition of the Idar Oberstein gemstone workshops, which dates back to the 15th century and is still of world renown.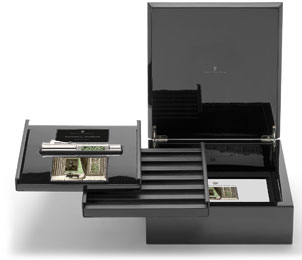 Each pen is individually numbered and comes in a highly polished, deep-black wooden case that can also be used as a collector's case because a second insert has room for an additional six writing instruments.
It includes a certificate personally signed by the master craftsman of the Herbert Stephan gemstone manufactory attesting to the authenticity of the natural stones.