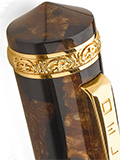 Delta's 40th anniversary celebration pen - with the new Write Balance system


39+1 A

NNIVERSARY

Delta's new production starts again, celebrating the 40th anniversary of its foundation, which is also the first year of its rebirth; that is why, instead of 40th, it has been called 39+1.
Delta's magnificent, wellknown, celluloid, oversize dimensions, and an extraordinary innovation: the Write Balance system.
That little golden weight, which is hidden inside the pen's bottom, is used precisely to balance the weight according to your preferences.
Without it, the fountain pen has its centre of gravity slightly shifted forward; with the weight on the tail, however, the barrel remains neutral and allows the personality of the writing to be expressed more effectively.
It is a minimal difference (the weight is 2 grams), but it changes the feeling and pleasantness during long writing sessions. 

The 39+1 fountain pen is generously sized, but its grip has a regular diameter, and the sinuously shaped cap lightens the line of the pen, both when closed and with the cap posted on the back.


The pointed cap is characteristic of the pen and contains the weight of the Write Balance system.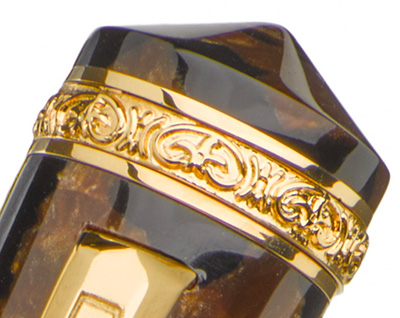 The decorative ring on the cap, made of vermeil (gold-plated silver), is a nice throwback to Delta's history: it reproduces in relief a decoration from the Greek-Roman period, found in the contours of Pompeii's frescoes. The same pattern we have seen in the past in all Dolcevita and in many other fine Delta pens.
Nib: 18Kt gold, personalized by Delta logo, as EF, F, M, B, Stub 1.1 and Stub 1.5.
Triple filling system: piston, cartridge, or eyedropper.
Available in a few days from order