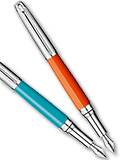 Regular proportions and classic shape for the bicolor version with metal cap


B

ICOLOR

L

EMAN
The Leman lake, also known as Lake of Geneva, is the largest lake in Switzerland and Western Europe.
Since 1998, the Léman pens, with their regular proportions and delicate curves, have been celebrating the shape of the lake and the richness of its colour variations.
Bicolor Léman
The Bicolor Léman collection combines extraordinarily colored silky lacquer with the brilliance of silver plated cap, decorated with line-drawing etchings


Saffron Orange : dynamic and spiritual colour. Orange evokes the waters of Lake Léman at sunrise. The saffron silky lacquer radiates against the brilliance of the silver-plated, rhodium-coated metal.


Turquoise cyan: a refreshing tone suggesting the purity of the lake waters. A replenishing shade which makes the Léman Bicolor Turquoise, the companion for the most beautiful summer moments. The turquoise lacquer perfectly matches the silver-plated, rhodium-coated metal finish.
All Léman pens are available in fountain pen, rollerball and ballpoint pen versions.
Cartridge/converter filling system.
18 kt white gold nib with F, M, B point.
Lifetime international warranty. Swiss made.
Our order form will calculate the shipping costs, which depend on weight, destination and carrier or mail.