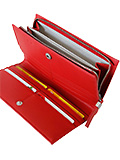 Women's wallet, of Via Durini line, made of luxury saffiano white or red leather.




W

OMEN'S

W

ALLETS
Women's wallet of the "Via Durini" collection, made of saffiano leather and smooth leather with satin-finish metal details.
3 models, all with coin case closed by zip, bill compartment and pockets to hold credit cards. Practical metal button closure.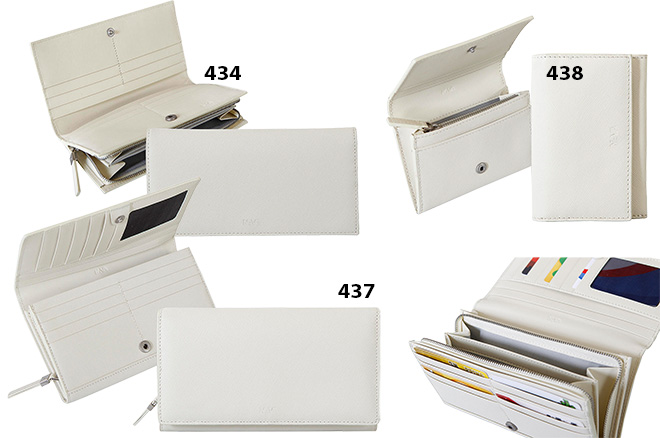 434 model: zipped compartment outside, 12 pockets for credit cards, bill pocket.
Available in withe or red leather.
Cm. 19 x 10
438 model: small wallet with zipped coin case inside, 3 pockets for credit cards and one larger pocket. Only available in white.
Cm. 12 x 9
437 model: zipped coin case inside, 14 pockets for credit cards and bill pockets. Only available in white.
Cm. 19 x 11

The Saffiano" leather is a calfskin leather that is treated and stamped to obtain the characteristic and recognizable scratched effect, formed by many lines crossed diagonally, and then treated with wax.
Saffiano leather is produced only in Italy, and is a complex and expensive process, which involves 12 different finishing steps.
It is a valuable material, which is usually applied for luxury items. In fact it appears aesthetically refined, consistent to the touch, and more resistant to wear and water.
Our order form will calculate the shipping costs, which depend on weight, destination and carrier or mail.