V
ISCONTI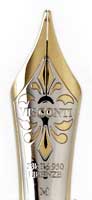 The Visconti pens have been for the past thirty years a synonym for writing instruments of extraordinary beauty, historically and technologically studied. The fountain pens, rollers and ballpoint pens by Visconti make up a wide range of high quality instruments with a strong identification.
Located in a 15th century villa, Visconti keeps being stirred by intellectual flurry, the study of ancient models and of modern techniques in a constant dialogue and exchange of innovative ideas.
Visconti pens were selected for history-making events, as signing the NATO-Russia Summit on 2002, and as a present for the twenty-five signatories of the European Constitution in 2005.
Giardino Italiano is authorized dealer of Visconti pens