W

E'
The superstition is life's poetry
La superstizione
"It's not true but I trust" was the famous reply of Benedetto Croce - wellknown Italian philosopher - about superstition.

And Eduardo De Filippo, famous Neapolitan theather author/actor/director, used to say:"Being superstitious is an indication of ignorance, but not being so brings bad luck", - and here is all scaramancy's philosophy.
The pen
The Delta Wè collection offers the promise of good fortune and the hope of dreams fulfilled in a spectacular collection of luxury writing instruments.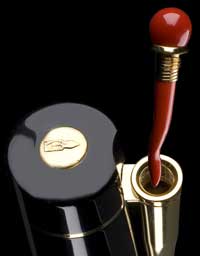 Inside the clip of every version of this new, hand-made collection, Delta blesses their customers with a "peperoncino", (red pepper).
Which is a traditional amulet of good fortune and is said to ward off evil.
Delta hand-crafts each lucky pepper amulet, so the lucky pepper charm completely disappears inside the clip, and is always available whenever and wherever good fortune is needed.

On the right, the Diamond model, whose clip ball is covered by small diamonds.


We' 17 is the series with black cap and barrel, vermeil trims and red ball.

We' Smorfia is the series with black cap, red barrel, vermeil trims and red ball.
They are available as fountain pen and ballpen.
14 Kt gold nib, cartridge/converter filling system.
WE' Diamond

There is also a more precious version - We' Silver Diamond - all black, with sterling silver ring and 25 diamonds over the ball.
14 Kt gold nibs, and cartridge/converter filling system.
WE' Emotion
All-white or all-black for the most affordable version of We', with steel nib (instead of gold) and trims in rhodium plated metal.
The central ring is laser engraved with the same design used for other We', (where it was relief worked in sterling silver).

Same clip, which hides a lucky charm; but the small external sphere is made of teh same color as the pen: white or black.
Steel nib, F, M, B