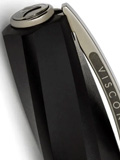 A new contemporary and misterious look for the Visconti Divina, all black in Matte version.


D

IVINA

M

ATTE
Several versions of Divina have been made Divina: of celluloid, of black lucite, of pearly resin.
The Divina Matte is oversize and, like the others, re-proposes the Divina Proporzione's length and sizes, according to the golden number 1.618, which is reflected in the proportion of the length of the cap to the length of the pen when closed or open.
Its shape is based on the golden spiral that goes around the body; in this version it is completely black, mat, stripped of its sterling silver ribbons that enhanced the spirals.
Trims are made of brass, rhutenium plated, for a contemporary and elegant total black look.

Nib: 14Kt gold, rhutenium finished, available as EF, F, M, B, Stub.
Filling system: "Pull & Turn" piston, with the filling button getting pushed into the body, re-emerging with a simple click.
The collection includes fountain pen, roller and ballpen.
Like the other Divina, the closing system is Hooke Safe Lock: a series of tiny grooves inside the cap will perfectly engage with the pen's section with a slight twist. It ensures that the spiral design is perfect when the pen is capped, and gives a pleasant feeling of safety and lightness.
The bridge-shaped clip is inspired by the famous Ponte Vecchio in Florence, black enamelled.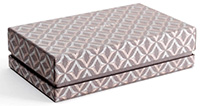 The Visconti Divina Matte fountain pen (closed) is mm. 145 long.
Packed in the new Visconti's box.
Our order form will calculate the shipping costs, which depend on weight, destination and carrier or mail.