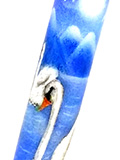 A couple of swans aerograph painted over a pen, by the artist Salami

H

ARMONY


Alessandro Salami started devoting himself to micro-drawing ten years ago approximatively, developing an artistic pathway that brought him to experience several techniques and materials, and a passion for painting over pens.

The Harmony pen is aerograph painted all over cap and body of a Parker Premium fountain pen. Each pen is hand painted, and signed by the artist in an edge of the cap.


Cap and body have been painted with two swans, symbol of elegance and beauty, placed in a fairy environment where sky, water and landscape mix together in the shades of blue, giving a peaceful feeling of serenity and harmony.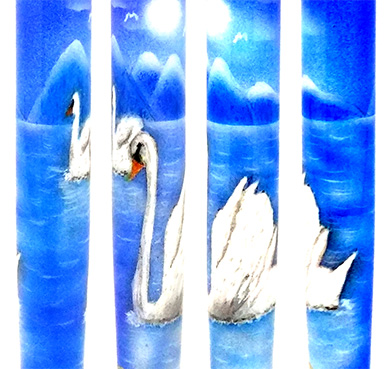 The artist, Alessandro Salami, painted a couple of swan, set in a peaceful landscape, over cap and body.
Only non-toxic, acrylic colours have been used, and the process is completely hand made, even the final polish protective coating.
Cartidge/converter filling system.
Steel nib, with M tip.
Chromed trims.
The pen comes in a precious brown leather box, with lock and key.