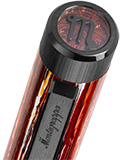 The Zero line by Montegrappa is enriched with the Zodiac series, a pen for each sign of the zodiac


Z

ERO

Z

ODIAC
Montegrappa's ZERO line is a fusion of Italian modernism, refined geometries and mechanical refinement.
The Zero Zodiac collection includes 12 pens, made of 12 explosive blends of handcrafted resin (Montegrappite) streaked with bright colours, one for each sign of the zodiac. The sign of the zodiac is also reproduced at the top of the cap, under the sapphire crystal of the head, replacing the Montegrappa logo.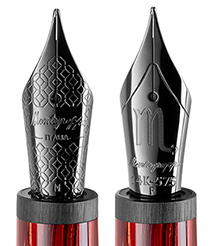 Two versions of fountain pens are produced for each sign of the zodiac: one in a limited edition of 360 pieces, and one in a regular edition.
Both have the same size, resin and colours.
The differences, besides the price, are:
- the serial number engraved on the bottom;
- the nib.
Nib of regular edition: steel.
Nib of limited edition: 14 kt gold, personalized with the zodiac sign.
The first 3 pens will be released in December 2021.
The following pens will be released next year, starting in February, in correspondence with the dates of the zodiac.
The first pen is SCORPIO: scheduled for release in early December 2021.
Red streaked resin, stainless steel trim with ultrablack IP, satin finish with polished edges.


The second one will be SAGITTARIUS: expected release in mid-December 2021.
Green streaked resin, stainless steel trim with palladium IP, satin finish with polished edges.


This will be followed by CAPRICORN: scheduled for release at the end of December 2021.
Brown streaked resin, stainless steel trim with yellow gold IP, satin finish with polished edges.


In 2022, they will be released: Aquarius, Pisces, Aries, Taurus, Gemini, Cancer, Leo, Virgo and Libra; but pictures of the pens have not been shared yet.

This is AQUARIUS: released in February 2022.
Deep violet and black streaked resin, with neon glow details. Ultrablack plated steel trims.


Pisces: release in February 2022
pink streaked resin, with pale blue and grey accents; palladium plated trims.


Aries: released in March/April 2022
Brilliant red with thin darker and orange veins. Ultrablack plated steel finish.


Taurus: ready in May 2022:
All turquoise, with light cyan and pink stripes. Palladiun plated trims.


Gemini: released in June 2022:
Green resin, with gold-yellow flashes, and golden trims.


Cancer: ready in July2022:
striped deep turquoise, with golden trims.


The Montegrappa Zero Zodiac fountain pen is a regular-sized pen, slender and light, and comes in the new grey-green Montegrappa boxes.