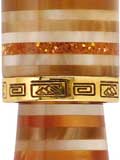 Inspired to one of the most ancient and fascinating civilizations


E

GIZIA


Hot desert, majestic pyramids, enigmatic Sphinks; these 5 Marlen's Limited Editions tell the hearth's and monuments' colours, and give raise to strong emotions, like the elements which they're inspired to.
Egizia pens are devoted to those who feel the arcane fascination of the ancient Egypt and want to own an original and technically perfect writing instrument.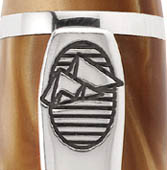 Egizia pens are realized in Italian multicoloured layered resin, carefully hand glued and hand refined, one by one, with silver or gold trims.
The cap ring is decorated with geometrical designs and pyramids, also depicted in the clip.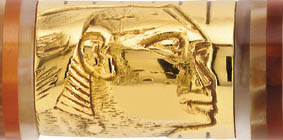 The large central band, decorated at relief with Sphinks' head, takes also the filling key for the models which are lateral compression filled.
All the others are piston filled.




Limited Edition
688 piston silver fountain pens
588 key silver fountain pen
488 silver roller
18 piston gold fountain pens
8 key gold fountain pens

The silver finished pens have a rhodiated 14 Kt gold nib, while the gold finished pens have a 18 Kt gold nib, in EF - F - M - B - BB.