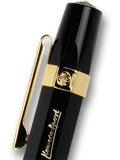 Small in the pocket, large in the hand.
Since 1911, the unmistakable design of Kaweco Sport


S

PORT

C

LASSIC

The famous Kaweco Sport (Classic) celebrated 100 years: it was born in 1911, and since than it kept its unmistakable style, and it's still fashionable.
The old motto "small in your pocket, large in your hand" is definitely true: when closed, it's a small pocket-pen, but it becomes a normal pen when opened, with the cap posted back.
The clip is removable: it's not attached to the cap, but it slides all over its length. It may be put in the preferred position, and it may even be removed at all.
In the following photos, in fact, we're showing the pen with and without the clip.


The removable clip
- golden -
can be purchased
separately








It's made in polished resin, in classic colors (black, white, burgundy, navy blue and deep green) with octagonal shape, rounded at edges, with golden steel nib and golden trim.
Nib available as EF, F, M, B and BB (1.3 mm)
Kaweco Sport Classic is not only fountain pen: a large lead pencil (mm. 3,2) is here with the same shape and colors - and the same optional clip system.
Length of the
capped fountain pen:
mm. 105;
open, with cap posted
on back: mm. 135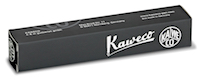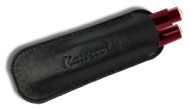 All Kaweco Sport come in a practical carboard box.
A thin black eco-leather pouch - 1 or 2 places - is available as well, separately purchasable.

FOR A FEW DAYS MORE:
A complimentary box of cartridges comes with every pen purchased: choose your favourite color!