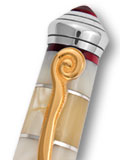 A homage to the sumptuous St. Peter's Basilica


S

AN

P

IETRO



Limited Edition
108 Prestige fountain pens
88 Prestige rollers
18 Deluxe fountain pens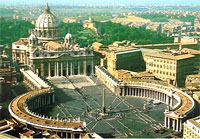 The St. Peter's Basilica in Vatican City is the largest church in Roma, often called the center of Catholicism; it's the Pope's principal church, as most Papal ceremonies take place there: new Popes' announcements, opening and closure of Jubilees, and canonization of Saints.
The construction started in 1506 e ended in 1626; while the square was finished only in 1667.
Many architects and artists alternated in management of work, from Bramante, to Michelangelo who made plans of the inventive design of the dome, to Bernini who realized the square in front of the Basilica.
This Marlen writing instrument wants to pay homage to the power of human talent.
The pen
The collection include a Prestige model, for fountain pen and roller, and also a Deluxe fountain pen model, which are different in size.



Prestige

:
Length, closed: 142 mm.
Diameter max 17,5 mm.

Deluxe:
Length, closed: 155 mm.
Diameter max 19,6 mm.
For all them, cap and body are made in ivory white celluloid bwith Italian pearly resin, red and beige; sterling silver rings define teh colors' division and the clip is made in vermeil.
The clip symbolyzes the Moses' rod, in vermeil.
The sterling silver central band is decorated with a perspective design of St. Peter's Square with the Basilica.
The final ring of the cap is engraved with the dates of work's start and end, in Roman numbers, and Marlen Italy signature.
Piston filling system, 18 Kt gold nib.