S

UDOKU &

C

ROSSWORD
Sudoku & Crossword: pencils with erasers
Play your favourite game with this nice writing instruments, of Tornado series.

Sudoku


Crossword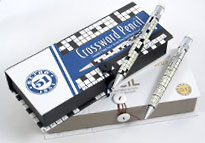 This classic size Crossword or Sudoku Tornado pencils come with 1.15 mm. lead and a big eraser.
The pens' body is decorated with such games, with unmistakable design of squares and numbers or letters.
The box includes several spare leads and erasers.