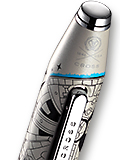 Own the legend!
Star Wars rollerballs with exclusive slide-and-snap mechanism


X S

TAR

W

ARS
Cross is proud to present the new Cross X Star Wars™ series.
The Cross X line features generous dimensions, solid silhouette with strong lines that symbolize the audacity of the saga and its unforgettable characters.
Lacquered metal and refined decoration all over the pen: here are the characters of Darth Vader™, of one Stormtrooper™ of imperial army, the commander Han Solo™, the Princess Leila™, the young Luke Skywalker™ and the unmistakable spaceship, the Millennium Falcon™.


Capless roller with patented snap-open, snap-shut slide mechanism.
The pen extends to write, showing a metal soul in theme with the character






Dimensions: closed, mm. 130; open, mm. 148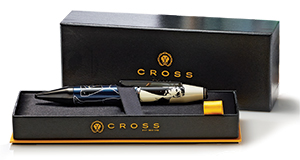 Impeccable in details, from the futuristic clip to the contrasting conical bottom, decorated with a colored enamelled line, coordinated with the decoration of the pen.
Definitely a must-have for Star Wars fans and collectors, as well as all those who feel at one with the Force.
Presented in a Star Wars themed gift box.
Lifetime mechanical warranty.
Own the legend!
Description
Color
Version
Price €
X Star Wars - Millennium Falcon
roller
Sold out
X Star Wars - Darth Vader
roller
Sold out
X Star Wars - Stormtrooper
roller
Sold out
X Star Wars - Han Solo
roller
Sold out
X Star Wars - Luke Skywalker
roller
Sold out
Our order form will calculate the shipping costs, which depend on weight, destination and carrier or mail.