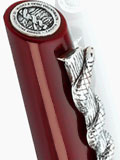 Doctors' pen, with Asclepius' rod and Hippocrates' portrait


I

PPOCRATE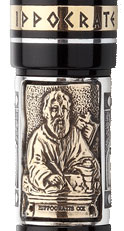 The new Marlen collection is made for the medical world.
The bronze and silver central band of the barrel, is engraved with a portrait of Hippocrates, one of the most outstanding figures in the history of medicine.
Hippocrates teached that diseases were caused naturally, not because of superstition and gods; he invented the medical record, theorized the need to rationally observe patients taking note and transcribing the appearance and symptoms and introduced, for the first time, the concepts of diagnosis and prognosis.
The clip reproduces the Rod of Asclepius, ancient Greek symbol of medicine. Asclepius was the Greek god of medicine (Aesculapius for the Romans).
The Rod of Asclepius symbolizes the healing arts, combining a snake - whose shedding of skin and renewal is emphasized as symbolizing rejuvenation - with a walking stick, a basic tool.
The Ippocrate pen is proposed in 4 colors: burgundy, deep blue, black and red.




Cap and barrel are made in Italian resin, turned from solid bars, with sterling silver, bronze and metal trims.
Steel nib, gold plated.
Cartridge/converter filling system