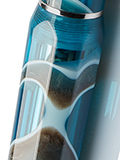 Polynesian atolls, beaches, crystal clear waters in this demonstrator Polynesia by Visconti


P

OLYNESIA



Limited Edition
888 fountain pens
888 rollers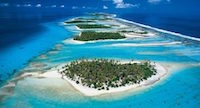 The hundreds of islands that make up Polynesia are places of stunning beauty and charm, famous for their white beaches with palm trees, the blue sea and the coral reef that shines in the clear waters.
Located in the South Pacific Ocean, between Oceania and South America, they are of volcanic or coral origin.
Visconti was inspired by the colours and shapes of the Polynesian islands for its new limited edition: Polynesia, made of semi-transparent acrylic resin with veins that recall atolls and coral reefs.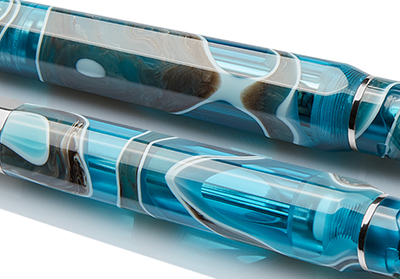 Polynesia comes from the Opera Master series, characterized by its large size, yet harmonious and elegant line.
Body and cap are faceted with 8 sides bevelled at the edges (the famous "squaring circle" that Visconti launched about fifteen years ago), which terminate round at the ends.

The resin colored veins form atolls, beaches and coral reefs in the crystal clear waters of the ocean, all different from pen to pen.
Double reservoir filling system, visible through the transparency of the barrel. A must-have for those who appreciate mechanical complications.
Finishes in rhodium-plated brass, hook-safe lock closing system (pressure and rotation).
The nib
The great novelty of Visconti, applied on this collection for the first time, is the new nib, designed and produced in-house, made in 18Kt white gold and available as EF, F, M, B and Stub.
Nib, feed and feed-housing are produced in-house.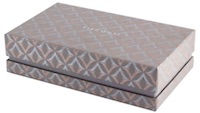 The Polynesia collection also inaugurates the new packaging, and a new Visconti logo that will accompany the historic trademark.
The box will be entirely recyclable and plastic-free, covered in stone grey paper with the brand's silver and platinum print.