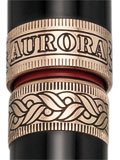 Black lacquer and rose gold to celebrate Dante Alighieri and his Divine Comedy


D

ANTE

I

NFERNO



Limited Edition
1265 fountain pens
Aurora presents the first pen in its collection designed to celebrate the major Italian poet Dante Alighieri (1265-1321), the father of the Italian language, and his Divina Commedia, widely considered to be among the masterpieces of world literature and included in the 100 greatest books of all times.
The Commedia, composed in ancient "trivial florentine language" is divided in 3 parts, and describes Dante's journey through Inferno (Hell), Purgatorio (Purgatory), and Paradiso (Heaven).
Dante Inferno is dedicated to the first canto of this famous work.


The collection includes the fountain pen model only, realised in colours that recall those of hell: a body in black lacquer with finishing in rose gold, with the addition of a hellish red on the ring.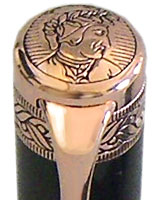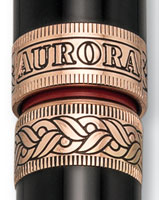 Some details, realised with customary craftsmanship and attention to detail, which always characterise the Aurora brand,
make the Dante Inferno even more unique.
At the cap's top, an engraved Dante's profile decorates the gold top disc, and the word Italia and the pen's serial number are on the back of the top ring.
The central rings are engraved, all around, with the laurel leaves that appears on the Poet's head in all portraits, only interrupted by the lacquered Italian flag on the back, and the name Aurora.
The 18 Kt rose gold nib makes this jewel even more precious.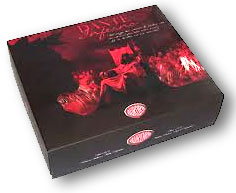 The packaging's outer sleeve is personalized and dedicated to the famous incipit "Nel mezzo del cammin di nostra vita, mi ritrovai per una selva oscura..." (Halfway through the journey of our life, I found myself within a dark forest")
The number of fountain pens of the Limited Edition, 1265 pieces, indicate the birth year of Dante Alighieri.
A more precious edition of only 39 pieces is scheduled, in lacquer and solid gold, to symbolize the 3 infernal rivers (Acheron, Styx
and Phlegethon) and the 9 concentric circles leading down to
the bottom of the abyss.