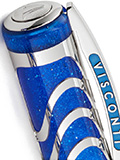 Sterling silver shell, cut on colored resin.


S

KELETON




Limited Edition
388 pieces each color The first Skeleton pen was made by Visconti approx 20 years ago, and reproduced the Visconti logo in the cut-out of the external filigree.
The original inspiration, however (hence the name) was still the human skeleton.
In the new Skeleton of 2023, the cut-out shell on coloured resin takes up the idea of the skeleton and defines ribs and spine as in an X-ray.
The new Skeleton pen pays tribute to Visconti's long history of skilled craftsmanship and to the skeletonisation technique.
The translucent resin is slightly pearly/dotted.
The fretworked shell is made of solid silver; with a palladium finish for the blue version, or with a ruthenium finish for the red version.

Nib: 18Kt white gold, available as EF, F, M, B, Stub.
Filling system: piston, Power Filler double reservoir.

The collection includes also a capped roller.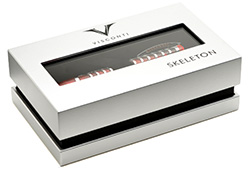 Pens come in a special box with a window.
Dimensions:
Length of the pen, closed: mm. 148
Length of the pen, uncapped: mm. 136
Diameter: mm. 15-17

Available on request