The chain mail of medieval knights covers also Ivanhoe pens

VARIUS -
I

VANHOE
The VARIUS series, of which also the Ivanhoe models is a piece, feaures a hexagonal body and is the iconic Caran d'Ache collection, the result of tireless, passionate work on materials.
The Ivanhoe pen, in fact, keeps the hexagonal shape in the cap and just an accent in the grip of pencils and ballpens.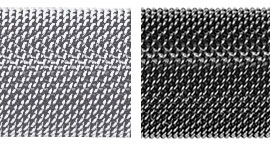 The barrel of pens is covered by the medieval knights' coat of mail, in steel, silver plated, rhodium coated. It's weaved like a knit, refined with the rhodium brightness and strength.
In the Black version, the same steel is treated to receive a black PVD coating that is both strong and beautiful.
The PVD techique is a physical process that deposits metal vapours on objects, colouring and giving them an optimal adherence and resistance, and a fineness that will remain unchanged forever.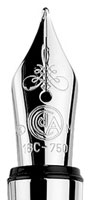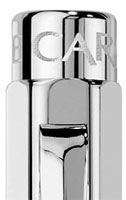 The carefully engraved nib is made in 18 Kt gold, rhodium plated, and it's available in F, M, B, OM, OB, EF.
Only the Varius series, in the whole Caran d'Ache range, offers 6 different widths of nib.
Cartridge or converter filling system.
Classic shaped, flexible clip.
Screw cap for fountain pens and rollerballs, push button for ballpoints and mechanical pencils (0.7 mm. leads).
At the cap top, the Caran d'Ache logois engraved all around featuring many of the Maison pens.