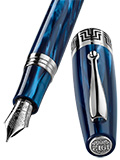 Celluloid
oversize pens


E
XTRA
1930
Inspired by a model from the thirties, Extra 1930 was designed for people who love precious objects, with classic design and original colours and decorations, combining the innovation of state-of-the-art technical solutions with the tradition of aesthetic approach.
It's a large size pen, that fills your hand and your eyes with its beauty, its beautiful colors and materials' preciousness.
The celluloid
Cap and body, in fact, are made in precious celluloid, the best material for a fountain pen.
The celluloid is an inimitable and expensive material, wellknown to fountain pen collectors, used since '20s. It's modern and eco-friendly, being not derived from petroleum, but from cellulose and alcoholized camphor.
Extra 1930's colors are inspired by Montegrappa Museum's colors.
Turtle Brown - Bamboo Black - Black and White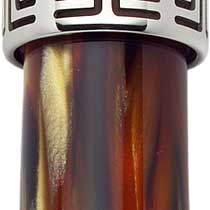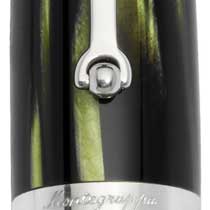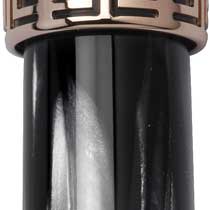 The pen
Extra 1930 in turtle brown celluloid, with amber-light flames



in bamboo black celluloid, green shaded


and in black celluloid, veined by white shades that melt in always different designs





All them have sterling silver trims, both in fountain pen or in rollerball version.
The large central band, in sterling silver, is cut-out with the classic Montegrappa Greek freat, while its clip ends with a small rotating ball with provides a smooth insertion in your jacket pocket.
A more precious version, with gold trims - instead of silver - has been made for Turtle and Bamboo fountain pens only:
18 Kt red gold, for both trims and nib, in Bamboo Black version:


and 18 Kt yellow gold in Turtle version, for trims and nib.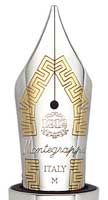 Fountain pens feature the classic piston filling system, and a giant 18 Kt gold nib, bicolor and personalized, with grades EF, F, M, B.