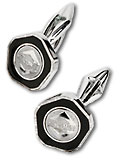 Personalizable cufflinks, matching Visconti pens


C

UFFLINKS
Palladium plated cufflinks, classy and original, easy to personalize with the same magnetic system used for pens (MyPenSystem): the small disc with Visconti logo can be removed, and a natural cabochon cut gem or the owner's initials can be put on, instead.

Personalization is reversible because we'll send you also the original Visconti disc for future substitution.
The Visconti cufflinks are available in two models:
- Opera, with squared/circular shape, like Opera series;
- Divina, pentagonal shape, like the Divina Black.
Description
Color
Version
Price €
Pentagonal Divina cufflinks
€ 50.00
Our order form calculates the shipping costs, which depend on weight, destination and carrier or mail.