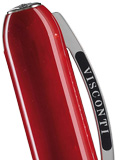 Visconti
entry level
quality pens



R
EMBRANDT
The Rembrandt range in 5 colours - apparently plain, that reveal at a closer look chiaroscuro nuances which render unique every single pen, such as Rembrandt's chiaroscuro technique rendered unique his artworks.

Blue


Black


Red


Ivory


Violet


New color! Green/black, with PVD black trims and clip, and black nib:


Green/black
The series includes fountain pen, roller and ballpen.
The fountain pen features a steel nib, and cartridge/converter filling system. (not included)
Its clip presents a new mechanism, completely restyled and indestructible, made of two parts only beside the spring.
Rembrandt Rollergraphic
Stunning roller version: it works with fountain pens' ink!
Put a normal cartridge in its place, and the rollergraphic will write throught its roller's tip, but without any roller refill!

Worldwide novelty of the Rembrandt series is the magnetic lock, simple and efficient at the same time. In this case not only has Visconti optimized the necessary opening effort but has also conceived the system with a view to render the closing easier as well. The closure results best for everyone, even for those particularly distracted, allowing to avoid in this manner accidents such as those typical of the twist closing pens.


The metal ring has been finely engraved in the best Visconti tradition with ornamental motifs used by the artist.
The entire collection can be personalized using the well-known Visconti patent - My Pen System - with the instant application of the initials or the semi-precious stone preferred by the fortunate future owner of our Rembrandt pen.