A
LESSANDRO

S
ALAMI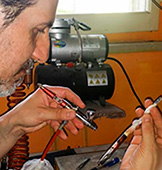 Alessandro Salami, musician and painter, has been working on micro-drawing for ten years, specially using the aerograph tecnique; and he developed a true passion for the painted pens.
In his works he expresses peaceful, elegant and gentle feelings, which he likely compares to a music melody.
Giardino Italiano is authorized dealer of Alessandro Salami painted pens.