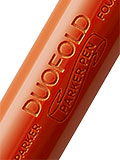 Unmistakable orange-red for the Duofold Classic, symbol of excellence since 1921

D

UOFOLD

C

LASSIC

B

IG

R

ED

Precious resin, lobster-red color, with old Duofold emblem etched on its body to tell the story of a series that made the history of writing instruments.

Available in two sizes:

Centennial, large size:


International, the same length but slimmer:


Also in roller model: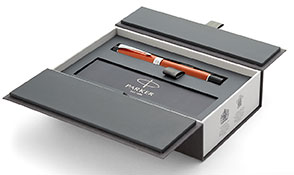 Rhodium finish.
Two-tone 18 kt gold nib, available in F or M
Cartridge/converter filling system.
Nice Parker white and grey box.
Available in approx 10 days from order.