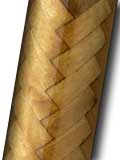 84 lemonwood handmade pieces, polished and varnished; the world's smallest parquet


P
EN OF THE
Y
EAR

2008
Lemon wood (Satin)
The outer layer of the barrel is made of carefully selected Indian satinwood. It's the same precious wood which panels the Lemon Room, Countess Ottilie's private salon in the Faber-Castell castle, with a herringbone pattern which inspired the fountain pen barrel's design.
Normally such a parquet pattern requires a plane surface; however, an unconventional technique has been employed to transfer it to a cylindrical shape.




Limited Edition
2.000 pens
numbered and certified
The world's smallest parquet
No fewer than 84 rectangles have to be individually hand-made for the filigree herringbone pattern of the satinwood fountain pen.
No two segments are identical: each can be fitted at just a single position on the barrel and matched to its neighbours to produce precisely even joins. Then the barrel is repeatedly polished and varnished, a time-consuming process. The world's smallest parquet, on the surface of a pen, is a work of perfection.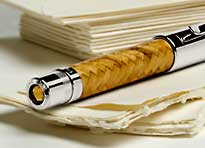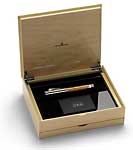 Crafted with the utmost precision, the Pen of the Year 2008 combines elegant looks, an inimitable feel, and excellent writing qualities. The interplay that develops between the warmly shimmering satinwood tones and the cool platinum-plated metal parts is as impressive for its fine detail as for its brilliant overall impression.
The masterpiece is crowned by a chessboard-faceted citrine gemstone set in the end cap.
The fountain pen is piston filled. 18 Kt nib, F M, B.
The Pen of the Year 2008 comes in an exclusive wooden case with a beautiful brochure and a certificate. That bears the personal signature of Count Faber-Castell and attests that the pen is one of a limited edition, and also that the material is selected genuine satinwood.

Descrizione
Colore
Versione
Prezzo €
Il costo di trasporto è calcolato dal carrello secondo il peso, la destinazione, e il tipo di spedizione scelta (corriere o posta)