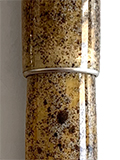 From Etruria series, the Gallicana in Sand color and palladium finish


E

TRURIA

G

ALLICANA
The Etruria collection is characterized by the classic ovoid and rounded shapes, a nice expression of the land of Tuscany. An invitation to lightness and joy, even in writing.
The line recalls the sphericity of the Etruscan amphorae, from which it is also inspired by the decorative elements: finely chiselled stylised leaves, both on the clip and in the central band.
Etruria Gallicana is characterized by the absence of the central cap band, replaced by a thin palladium ring; and it's regular-large in size.
Etruria Gallicana in the Sand version is made of slightly translucent resin, beige in colour, dotted with irregular black, grey and sand coloured grains, which shield its transparency and give the typical appearance of sand.


Etruria Gallicaa in the Oronero version (=black gold) is black, with golden waves all around cap and body.

Clip and rings in palladium plated metal, mat and glossy.
Filling system is cartridge/converter.
Nibs
The steel nib is available as F, M, and Stub 1.1; but also as V-FLEX unique size, a calligraphic nib with an increased cut and very high flexibility of stroke. The V-Flex nib starts from a F/M with light pressure, to arrive at stub just weighing your hand.
Otherwise, there is the T-FLEX titanium nib, that gives great performance in terms of accuracy, flexibility and lightness, allows a perfect writing. It's a calligraphic nib as well, with F/M tip, and meets whatever a pressure.
Or, also the classic 14 Kt gold nib, with a very wide choice of grades: starting from UF (UltraFine) and EF (ExtraFine), to F, M, B, and to 0.9 Stub and 1.1 Stub.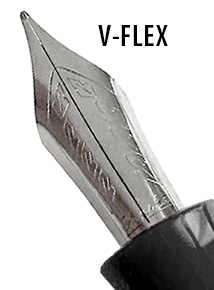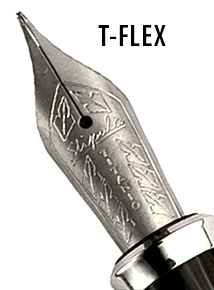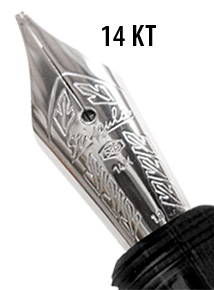 The price below is referred to the steel nib or V-Flex nib, that has the same price as steel.
You can order it with titanium T-Flex nib, or 14Kt gold nib, adding its extra-fee.