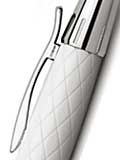 Fashion, handiness and technical perfection: it's the E-motion series


E-MOTION

R

HOMBUS
The elegant e-motion line, with its striking cigar-shaped silhouette, changes its guise every year.

The extra white barrel, made in high quality resin, is Guillochè engraved with rhombus pattern. The chromed metal caps and end pieces contrast effectively with the geometric design of the body.




The fountain pen is cartridge/converter filled. Stainless steel nib available as F, M, B.
The roller has removable cap; when it's closed, it's as large as the fountain pen.
Pencil and ballpen work by twist mechanism.
The tough 1.4-mm lead is smooth and dependable. When corrections are necessary, an extra-large replaceable eraser is at the ready under the end cap.
The spring-loaded clip emphasizes the flowing lines of pens and also holds them securely in a personal organizer or a jacket pocket.