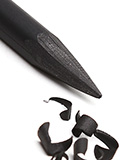 The green pencil, non-toxic, clean, unbreakable, that always writes


P

ERPETUA
Perpetua® is a green pencil, distributed exclusively by Alisea. For its construction no living trees were destroyed.
It is made of Zantech, an innovative material composed of 80% of recycled industrial graphite (recovered from the industrial milling process for the production of electrodes, otherwise destined for landfill). Thanks to special rubber polymers is agglomerated into a solid stick.
It's clean: it does not soils your hands.
It's unbreakable: even if it fall down, there isn't any lead to break or wood to crash.
It's non-toxic: it does not use wood or protective coatings.
It lasts longer: writes for 1120 km (21.6 times longer than traditional pencils).
This single body of coloured rubber becomes integrated during the injection phase, Perpetua® doesn't leak , resilient if dropped or knocked and is suitable to be used by children or scientists.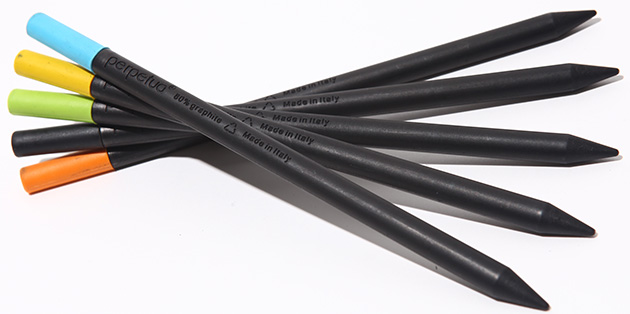 It's a unique body. Unlike normal pencils, there isn't the wood body that includes the graphite lead.


It can be tempered but it writes even without tips.
It does not soil; ideal for both right-handed and left-handers.
100% Made in Italy.

The coloured rubber becomes integrated during the injection phase. The pencil forms a single body with its rubber.



Moreover, Perpet a has a flat side that prevents it from rolling.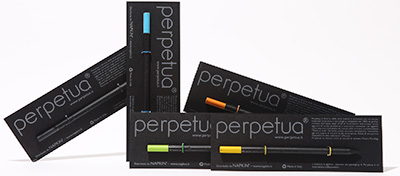 Very simple packaging, in black cardboard. A matching colored silicone bracelet is used like a rubber band , to keep the pencil in place.
Dimensions:
Length cm, 19,5
Diameter mm. 9
Weight 15 gr.

For some colors in stock, the elastic band got lost.
Perpetua is a registered international patent for the product and production process.