Extraordinary colours of veined ebonite in one-piece fountain pens


S

PECIAL



Limited Edition
1 fountain pen each colorLeonardo Officina Italiana has made real jewellery out of these pens, all made of colourful and highly variegated ebonite.
They are all unique pieces (only one piece of each colour was produced) .
Fountain pens based on the Masterpiece model, oversize, screw cap, palladium finish, and extraordinary mixed and contrasting colour patterns.
Special - Red-Blue: sold
.
Special - Green-Blue: sold

.
Special - Green-Red:
clear green and bright red, with dark blue veins and terracotta brown accents.
This pen currectly mounts a Fine nib, but we can substitute it, in case.

.
Special Blue-Hazel: sold
.
Special - Orange-Beige: sold
.
Special - Orange-Blue
A colourful mix of orange, light blue, dark blue and mustard yellow, with a beautiful kaleidoscope effect.
The orange-blue Special fountain pen mounts a F nib now, but we can substitute it.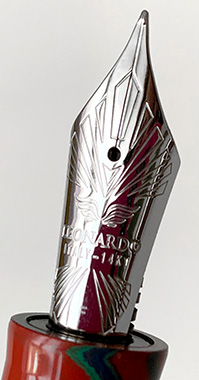 Nib: 14Kt white gold nib (EF, F, M, ST)
Filling system: integrated piston filler, huge capacity 1,5 ml.
Feeder: of ebonite.
The fountain pen comes with a complimentary ink bottle, packed in a beautiful wood box.
Dimensions:
Length of the pen, capped: mm. 154
Diameter: grip mm. 12,4; cap mm. 16,8
Weight: gr. 32
Also the Leonardo Special fountain pens are completely disassemblable with the special tool that is sold separately.