An oversize Momento Zero, with music nib


M

OMENTO

Z

ERO

G

RANDE
The oversize version of MomentoZero is produced in 5 wonderful new colors of resin, marbled or striped.
Blue Caribbean, with shaded turquoise and deep blue accents:

Moka color, in several tones of dark brown coffee

Copper color: from brown to rust, with amber shades

Hawaii Blue, darker than the regular-size Hawaii Blue, but with the same striped pearly efefct:

Sand, in grey/beige natural colors, striped as a faceted effect:

New Music Nib
The Momento Zero Grande brings another news: Leonardo Officina Italiana proposes the fountain pen with a 14 kt gold classic nib, or with a music nib!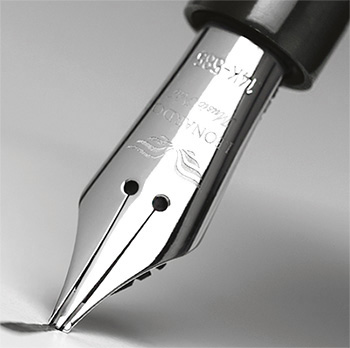 To write music, you need a pen
that can make thin lines,
vertical and horizontal,
but also thicker strokes and ties.
This nib was studied to do all these,
and very quickly.
The music nib by Leonardo Officina Italiana is the only nib in the world with 3 tines and 2 oblique cuts.
Available in the Broad grade only, with closed tines; with open tines and completely flexed, it can reach a BBB (triple broad) stroke.
It's a nib born to create music, and now proposed to those who love to experiment and enhance their writing, making it unique, and even more personal.
Piston filling system.
The filling system, inside the body, is an "external" piston, not incorporated in the barrel (like other Leonardo's limited editions instead).
It's a piston with good capacity (1,2ml), and mechanically well made.
Ebonite feeder, produced by Leonardo's workshops.
Momento Zero Grande is packed in an elegant box and comes with a free ink bottle.
Dimensions:
Length of the pen open, without cap: mm. 133
Pen open with the cap posted back: mm. 171
Diameter max (at cap): mm. 16,7