From the Momento Magico model, the version made with precious blue Abyss celluloid.


A

BYSS - MOMENTO MAGICO



Limited Edition
222 fountain pens
The Leonardo Momento Magico pen is made in a limited edition from precious Abyss blue celluloid, from which it takes its name: Abyss.
Cap and body in dark blue celluloid with shades that go from ultramarine blue to grey and black, with some hints of turquoise.
Like all the other Momento Magico fountain pens, also ABYSS features a big capacity piston filling system (1,5 ml) and a transparent window to check the ink level.
The cap is decorated with a new central band, three-dimensional pantograph-engraved, that reproduces the curvilinear designs of the amphora handles of ancient Rome. Those amphoras used to contain precious liquids as oil or wine; as well as the pen contains a precious liquid, the ink, that transforms thoughts into stories and tales, notes into everyday life.
The clip is in vintage style with a rotating ball.
Trims: yellow gold plated.
Nib: 14Kt gold nib, normal (EF, F, M, B, Stub 1.1) or elastic (EF)
Feeder: dark blue ebonite.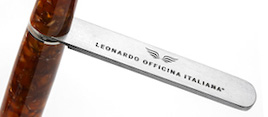 Like the other Momento Magico, also Abyss is completely disassembleable, due to a special steel tool that is sold separately - that allows you to unscrew the bottom, the barrel, the piston, the nib group.
The pen will be available at the end of June, in a small quantity.
Bookable now.