2020 Year of the Rat, according with the Chinese Zodiac. Blue lacquer and gold engravings.


Y

EAR OF THE

R

AT
Why 12 signs?
According to Legend,
the Emperor of Jade summoned all the animals
in creation to a mysterious meeting,
promising them a special reward;
but only 12 animals came.
The Emperor then gave their name
to all years from then on,
in the order of their arrival.

2020 is the Year of the Rat, the first sign of the Chinese Zodiac.
With this collection, Cross celebrates those born under this auspicious sign and their character traits of imagination, intelligence, quick wit, and charm.
These are the years of birth under the sign of Rat: 2020, 2008, 1996, 1984, 1972, 1960, 1948, 1936, 1924.
The pen is a Special Edition based on the Townsend model.
Body and cap are coated with translucent blue lacquer, and then deeply engraved with the original artistic design of the Rat; the engravings were then filled with 23Kt gold.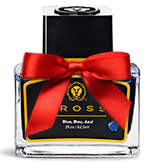 A free ink bottle of 2fl.oz
with all fountain pens
A brilliant blue Swarovski crystal is set at the cap top.
Nib: 18Kt gold nib, available as F or M.
Filling system: cartridge/converter (not included).
Lifetime mechanical warranty.
Available in approx ten days from order