V

ENEZIA
Hand made with natural Thuya briar
The

Thuya briar


(or Arar)
comes from the
base of the trunk of
juniper tetraclinis,
an evergreen
coniferous tree that
lives in Morocco,
Algeria, Tunisia;
very requested,
is used for objects
and musical
instruments.
The Venezia pen is made with thuya briar, hand turned from a solid wood piece, hand polished and hand refined to enhance its features, , lucidata e rifinita a mano per esaltarne le sue particolarità, touch sensations and scent.
The natural spots and shades, so much typical, of this wood, give it uniqueness: you certainly won't find another pen equal to the yours!



Available as fountain pen or roller.


You can buy an extra roller grip separately; easy to exhange, for experiencing all the writing devices.
Two pens in one!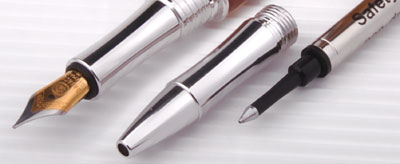 The fountain pen features a bicolor steel nib, cartridge/converter filling system. Converter included.
The packaging is a raw wood box, inspired by a typical crate of apples.
Hand turned and hand finished pens, made in thuya briar, featuring deep and variegated shades. All pens are different each other.
Description
Color
Version

Price €

Venezia - fountain pen in thuya briar
Medium

187

€ 145.00
Venezia - roller in thuya briar - Special Offer
roller

170

€ 105.00

Roller grip with refill

68

€ 46.00

Our order form calculates the shipping costs, which depend on weight, destination and carrier or mail.

Would you like to add any accessories ?