P

ARMA
Parma pens are hand made with Turkish walnut wood
I noci,
alberi di grande taglia,
hanno altezze comprese
tra i 10 e i 40 metri;
crescono in Europa,
in Asia e in America.
Il legno pregiato è usato
per la realizzazione
di arredi e complementi,
grazie ai suoi colori caldi,
alle venature piacevoli
e alla grande stabilità.
Fountain pen or roller, hand crafted with Turkish walnut wood, hand turned and refined.
The final result, therefore, is an always unique piece, because the wood veins are always different - and very visible, in the walnut wood - and each pen features different shades and decoration.
Rhodium trims, cartridge/converter filled (included), bicolor steel nib.
Length of the pen, closed: approx mm. 130 - it may change from pen to pen, due to the hand crafting.
Parma is available as fountain pen and roller.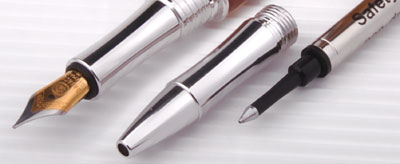 You can also separately buy the roller grip only, and easily exchange it to try all styles of writing.
Two pens in one!
The packaging is a raw light wood box, inspired by a typical crate of apples from Trentino; it pleasantly contrasts with the dark, polished and higly refined pen.